The Ebell Club of Anaheim

HOME
HISTORY OF EBELL CLUB
ADRIAN JOHN EBELL, M.D.
(1840-1877)
By
Alberta Beckelheimer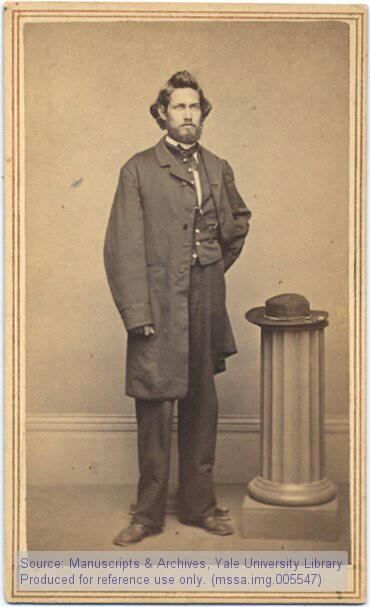 Although Dr. ADRIAN JOHN EBELL lived only to the age of 37, his life was rich and varied, and his influence on the lives of women is present even today in the number of women's clubs that have taken his name. He was born September 20, 1840, on the Island of Ceylon. At about ten years of age he was brought to New York to be educated, joining an older sister who had married an American missionary. He entered the Academic Department of the Sheffield Scientific School, a Yale college, with the class of 1862, remaining for two terms only. The next year he again entered college with the class of 1863, but left again at the end of one term.
He began working in photography, and also started operating a "phantasmagorical" magic lantern show in Hyde Park and then Chicago with a partner. In August of 1862, both decided to travel to Minnesota to photograph the Dakota tribe for use in their magic lantern show. Ebell learned of thousands of Dakotas gathering at Upper Agency on the Minnesota River, but before they could get there (shortage of funds caused problems), the growing unrest in the tribe evolved into a full blown war - later called the Dakota, Sioux, or Minnesota uprising, and they were forced to flee. Ebell managed to take some Indian photographs of straggling Sioux along the way. In September 1862, he volunteered for service in an army force assembled to protect settlers at Birch Coulee and was in a decisive battle. Later, some of his Dakota photographs were published in the June 1863 edition of Harper's Magazine as wood engravings with his article "The Indian Massacres and War of 1862."
 Adrian Ebell then returned to New Haven and graduated from the Scientific School. During the next few years he was involved in several pursuits, one of which was the study of insects, and he published the book "Structure and Classification of Insects," which became Part 2 of the "Textbook of Natural History." He afterwards studied medicine at Albany Medical College, graduating with an M.D. in 1869.
In the meantime, he had begun to lecture before schools and lyceums on natural science, and in 1871 he established himself as director of "The International Academy of Natural Science," in New York City with a similar Academy in Berlin. The Academy's agenda was a plan of travel and study in Europe for annually organized classes of young ladies.
In September 1874, he was married to Oriana L. Steele in New York. At some point around this time, Dr. Ebell traveled west to California to lecture and interest young women in his Academy with its studies of culture based on grand tours of the capitals of Europe. While there, he was responsible for the formation of a women's club in Oakland called the Oakland Chapter of the International Society for the Advancement of Art, Science and Literature. Their first meeting was held in the chapel of the First Congregational Church in downtown Oakland on December 13, 1876.
His influence on the Club proved to be short. In late March 1877, Dr. Ebell embarked from New York on board the steamship Frisia with a group of young women making one of his Academic tours. Apparently, he became ill almost immediately. Upon arrival at Hamburg on April 10th, he was able with assistance to get on board the small steamer carrying passengers to the dock, but died before reaching shore. The immediate cause of death was termed rheumatism of the heart. Shortly thereafter the Oakland women's group changed its name to the Ebell Society in honor of their leader. They severed the tie with Germany and formed their own courses of study and classes in the arts, becoming a huge success.
In 1894, several of the women from Oakland who had moved to Southern California joined with Los Angeles ladies to form an Ebell Society there. In the same year, the Ebell Society of the Santa Ana Valley was organized.
Our own Club followed, founded by Mrs. Harry Dyer and friends, with its first meeting at her home on November 23, 1907. The rest, as they say, is Our History.
copyright © 2022 The Ebell Club of Anaheim
Dr. Ebell photo from http://images.library.yale.edu/madid/oneItem.aspx ?id=1772736&q=&q1=0684&q2=&qc1=contains&qc2=&qf1=subject1&qf2=&qn=&qo=&qm=&qs=&sid=&qx=1004.1